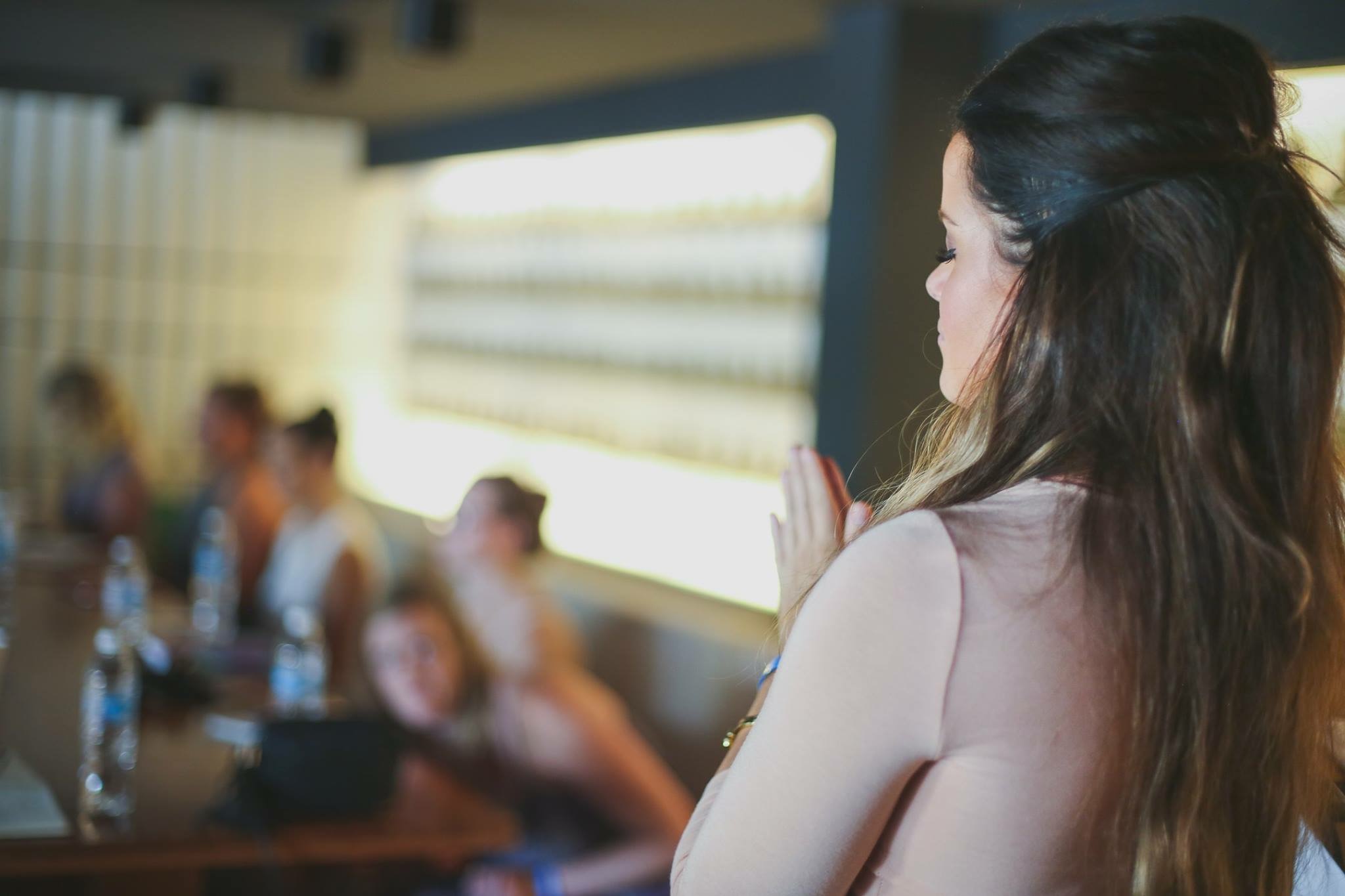 SHORT BIO #1:
Jennifer Jayde is an international (2x) best selling author, speaker, and Soul Aligned Success Coach for women ready to live their most inspired, authentic and soul driven life. Through her coaching, online programs, speaking, tv appearances and best selling book, Jennifer connects you to what sets your SOUL on fire, how your life was uniquely designed just so you could serve others in a way that LIGHTS YOU UP, and bring your authentic vision to life with powerful inner growth + soul alignment strategies, tips, and tools that you can easily incorporate into your every day life and business.

SHORT BIO #2
Spiritual Awakening and Inner Development for Female Entrepreneurs - Life and Business are shaped from the Inside Out. Jennifer has applied her personal spiritual practises to create thriving success in all 3 of her business ventures so far. The most recent one earning 6 figures in it's first 6 months and leading to best selling published book sales, and international TV Interviews without grinding and hustling her life away. The foundation to any successful business venture is being awakened, aligned, inspired, and empowered from the inside out…Find out more about Jennifer and her free offerings at jenniferjayde.com

FULL BIO:
Just an island girl from a small town that decided to go for it! Jennifer Jayde is an international best selling author, speaker, and Alignment Coach for women ready to live their most inspired, authentic and soul driven life. She grew up in a little old basement suite on Vancouver Island, where she shared a bedroom with her mom, who started her own esthetics business in the other bedroom! Though she had a passion for photography since a young age, Jennifer followed societal pressures and got a "safe" career in finance. Just before her 22nd birthday, she became a full-time, 100% commission-based mortgage broker, and grew her business to generate over 6 figures in total annual sales. AT AGE 26, SHE HAD A WAKE UP CALL AND REALIZED HER SOUL WAS CALLING HER TO FOLLOW HER CHILDHOOD PASSION OF PHOTOGRAPHY. She left the mortgage industry and began a full time destination wedding photography business. She became A TOP PHOTOGRAPHER in her region, garnering consecutive awards for her work, and being flown worldwide to photograph couples on their wedding day. She then felt the familiar "tap on the shoulder," and followed her passion once again. This time, to help women around the world find their purpose and live it full time. Within a few short months of starting her coaching business, she sold out her 1:1 coaching program, waitlisted her group program, and generated six figures in sales within her first 6 months of business. In her first year, she generated over ¼ million in sales, co-wrote an internationally best selling book, and was approached for tv interviews internationally. Jen believes at the very core of a fulfilling life and thriving business, is our alignment with our soul's calling and inner guidance. She lives part-time in her dream beach city of San Diego and part time on beautiful Vancouver Island, Canada - but at feels at home wherever there is sunshine and salty air....
OFFICIAL BIO:
Jennifer Jayde is an internationally, 2x time bestselling and award winning Author, International Speaker and Worldwide Soul Aligned Success Coach for Aspiring and Existing Entrepreneurs. She has been featured in notable Magazines, interviews and podcasts internationally, appeared on television in both Canada and the USA, and spoken in front of many captivated audiences. She's also the host of the Soul Adventurer podcast, which has ranked top 20 on Apple Podcasts in Canada in the popular Self-Help category.

As seen (or heard) on the Inspirational 30 TV Show, Commando Coach TV Show, The Huffington Post, THRIVE Global, Rizing Magazine, It Girl Radio, I Heart My Life with Emily Williams, Countless Interviews and Summits, Featured Guest Speaker at the Wanderpreneur International Retreat, RBC Royal Bank of Canada Keynote Speaker, Featured Guest Speaker at the GBR Publishing House Awards, Syndicated on Sony, Sharp, Apple TV, LG and Samsung. Also featured on multiple Youtube platforms, the 3 Day Workweek Podcast, the Mind Over Matter Podcast, the Rachel Varga Podcast, the Women United Project and more…
Jennifer Jayde's greatest joy is in freeing others to live their most soul-aligned life successfully and abundantly. Specializing in aspiring and existing entrepreneurs, Jennifer's gift is to zone in and pinpoint the exact root causes you've not yet created the fullest expression of your desired income, potential, lifestyle and business - help you excavate out those soul anchors once and for all - and catapult you forward into the life and business your soul is yearning for. This is living a Soul-Aligned Life full-time - and this is what Jennifer was put on this earth to help you with…
Feature 1 - Behind the Scenes Cut from Inspirational 30 TV Episode
Magic happens if you learn how to "trust the outcome" while still keeping focussed on your dreams, goals and intentions. In this behind the scenes segment Jen and host, Jim Gardiner, discuss being passionately non-attached and trusting the outcome. We could talk for hours :) Enjoy!
Feature 2 - Full Length version from Inspirational 30 TV Episode
Inspirational 30 - Season 2: The Tap of Destiny
We have all been there...that voice inside that calls to us "is this all there is?, am I happy?, do I deserve more?" This week's guest finally listened to that voice and now coaches others on how to wake the "bleep" up and start living their true calling.
This conversation with Jennifer Jayde is sure to stir some fire in you. I am excited to share her story as it mirrors much of my own. In the end I hope you will stop and listen to what is truly going on inside you...
Feature 3 - Full Length Version from Commando Coach on Manhattan's MNN TV Network
Jennifer discusses how a small town girl with zero handouts or head starts in life can get ahead and live her dreams no matter where she starts out from...Click HERE to watch now…
Jennifer Jayde loves to elevate audiences to step into their highest, best and most successful selves at conferences, live events, retreats, on tv, in online video interviews as well as podcasts
Alignment is the New Hustle - The reason thriving success may be lacking in your business and what you can do to shift it right now
How to Uncover Your Calling - Feeling stuck, lost and/or drained? Your inner gps is giving you guidance to move on - here's how to listen
How to Connect More Deeply to Your Intuition - For personal happiness, joy and fulfillment, and/or to reach the next level of success in your business
How to Receive an Immediate Yes/No from Your Inner Guide - Feeling Indecisive? Here's a 5 second trick for a immediate clarity
How to Eliminate Your Lifelong Hidden Mind Weeds - So many of us say we want one thing but our actions show something else. Here's how to eliminate subconscious self-limiting beliefs and plant new seeds for abundance, success, and deep inner joy
Discover Your Intuitive Language - We all have an inner guidance system. Learn how to understand your particular type and fast track your success in life and biz
Understanding Ego vs Intuition - Learn how to tell the difference between the master of deceit (ego) and the truth that's trying to guide you, so you can create your grand vision with far greater ease
How to Move Forward with a Dream/Major Life Transition in the Face of Immense Fear - I have done this not once, not twice, but three times now and have some huge insights to share!
How to Hustle Less and Earn More - When I stopped being a Type A Perfectionist I finally started achieving all the success I dreamed of. I'm eager to share how!
How to Increase Your Self Worth and Self Confidence with this One Shift in Perception - So you can finally own your truth and move forward with your dreams
***These are a handful of topics Jennifer is happy + grateful to speak on, though if you have another one you're curious about, she's always open to new ideas and welcomes you to reach out below***
You're welcome to use any of these images below! We simply request an email at info@jenniferjayde.com with a link to let us know where they will be used
Contact Us
We welcome you to reach out and share what you have in mind. We'd love to ensure we're a great fit for your event! Available to spread the love worldwide :)
Please complete the form below
You can also email us directly at info@jenniferjayde.com